Descubra quais arquétipos você
vive e como eles influenciam
sua vida!
Faça seu Mapa Arquetípico

®
O Mapa Arquetípico é uma ferramenta profunda de autoconhecimento.
Através desse Mapa, você poderá descobrir quais arquétipos mais influenciam a sua vida e quais não lhe influenciam.
Compreenderá como sua personalidade é formada e o porquê você se comporta de determinada maneira.

Com essas informações, você se conhecerá profundamente e conseguirá compreender melhor as pessoas que convivem com você. Conseguindo melhores relacionamentos afetivos, na família, no trabalho e na vida de um modo geral.

Esse é um trabalho libertador, pois conhecendo o arquétipo que você vive, vai aprender a se livrar das influências negativas desse arquétipo, vai conhecer outros arquétipos poderosos que você pode integrar em sua vida e vai ter uma análise arquetípica completa sobre você.
Perguntas frequentes
What Are Clinical Trial Phases?
---
Clinical trials of medications involve four phases. Phase I clinical trials usually include between 20 to 80 healthy people. These clinical trials make sure a medication is safe. Phase II clinical trials are done only after a medication is shown to be safe. Phase II clinical trials involve no more than a few hundred participants who have the disease that the medication is intended to treat. These clinical trials are used to learn if the medication works and determines what dose should be used for the disease. Phase III clinical trials can include up to several thousand participants. These clinical trials try to further confirm that the medication works for a specific disease. Phase III clinical trials also study the side effects of the medication. Both Phase II and Phase III clinical trials may compare the effectiveness of a new medication to a control group, who gets the standard treatment (or placebo). After a Phase III clinical trial is completed, data from some of the clinical trials can be sent to the Food and Drug Administration (FDA). If the FDA decides that the medication is safe and effective to use, it can then be marketed and prescribed by your doctor. Phase IV clinical trials may be done, once a medication is marketed. Phase IV clinical trials often include several thousand participants. These clinical trials provide additional information about the medication's effectiveness and safety. Specifically, these trials continue to collect information on the long-term side effects of a marketed medication. This information is later sent to the FDA. Medical and surgical procedures, herbal remedies and dietary supplements are less regulated and do not go through this process.
---
What Is a Clinical Trial?
---
A clinical trial is an organized way of studying medical treatments for diseases. Medical treatments are medicines, devices or procedures. Clinical trials are research studies that help prove that medical treatments are safe and effective to use. They also can show whether one medical treatment is better than another. At first, studies of new medicines are done in laboratories. If the medicine looks promising, it is then tested in animals. Usually, clinical trials are only started after the treatment is found to be safe in animals. Most clinical trials involve many people. This way, if the medical treatment is shown to be safe and effective, doctors will know what to expect in their patients.
---
What Types of Clinical Trials Are There?
---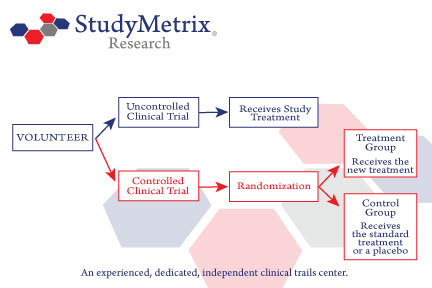 Generally, there are two types of clinical trials, uncontrolled and controlled. In an uncontrolled clinical trial, all participants simply receive the same treatment. However, these types of trials do not provide as much information as a controlled clinical trial. In a controlled clinical trial, participants are divided into two groups. The first group, called the treatment group (or experimental group) may receive one or more kinds of treatment. The other type of group, called the control group, receives the standard treatment. Sometimes in medical trials, there is no standard treatment so a placebo or "sugar" pill is used. By dividing participants into groups, doctors can compare how well different treatments work. An important part of a controlled clinical trial is that participants are randomly assigned to one of the two groups (see Figure). A participant who is randomly assigned means he or she is assigned to a group by chance (like a flip of a coin). A randomized clinical trial is the best way to study new treatments. Often controlled clinical trials are also masked. There are two types of masked clinical trial designs, single maskedand double masked. In a single masked clinical trial, participants do not know whether they received the new treatment or a standard treatment (or placebo) until the end of the study. In this type of clinical trial, the doctor and nurse know which treatment the participant received. In a double masked trial, neither the participant nor the doctor/nurse know whether the participant received the new treatment or a standard treatment (or placebo) until the end of the study. These clinical trial methods are important because they prevent people's behaviors or opinions from influencing the results of the clinical trial.
---
Why Are Clinical Trials Important?
---
Many important medical questions have been answered with clinical trials. These answers have helped improve medical care. Clinical trials usually lead to safer and more effective treatments for many diseases. They also show new directions for medical research that may lead to new therapies in the future. VA clinical trials have found new therapies for heart failure, high blood pressure, coronary artery disease, stroke, tuberculosis, epilepsy, diabetes, kidney disease and gastrointestinal diseases.
---
Why Would a Person Be Interested in a Clinical Trial?
---
There are many good reasons to take part in a clinical trial. In clinical trials, doctors discover new ways of curing or relieving symptoms of diseases. Many people choose to take part in a trial because the new treatment may help themselves or others. In some clinical trials, a new treatment is found to be safer and more effective than other treatments available to your doctor. In this case, clinical trial participants are the first to benefit from it. However, there can be risks from new medical treatments, like side effects. Sometimes, however, a medication or treatment is less effective or even harmful. If the new treatment proves to be harmful or less effective before the trial is completed, your doctor will often decide to take you out of the clinical trial and do whatever is best for you. It is important that you know the benefits and risks of a new treatment before volunteering to participate in a clinical trial. Informed consent is used for this purpose. This form describes the clinical trial and lists the benefits and risks of each treatment. Before any treatment is given, you must be told about these benefits and risks. You cannot be entered into a clinical trial until you sign the informed consent document.
---
Who Can Participate in a Clinical Trial?
---
Both healthy people and people with medical conditions or specific diagnosis participate in clinical trials. Healthy people are involved in Phase I studies, which determine the safety of a medication. For example, clinical trials of vaccines (like the polio vaccine) often include healthy people. These people are usually at risk for getting the disease the vaccine is meant to prevent. Most clinical trials, however, involve people with a specific illness who may be helped by the new treatment. These kinds of clinical trials are usually Phase II, Phase III and Phase IV trials. There are often restrictions that specify who can be included in a clinical trial. The clinical trial protocol will specify which participants can be included. The clinical trial doctor will determine if you are eligible to participate in the trial.
---
What Is It Like to Participate in a Clinical Trial?
---
While participating in a clinical trial, you may receive more medical care than you would normally receive. Many clinical trials may require that you have more tests and/or doctor visits than usual. Here at StudyMetrix, people participating in our clinical trials are seen by the clinical trial doctors and study coordinators in the same visit. There is no cost for any treatments or tests that you receive for participating in a clinical trial.
You may also have to keep records or fill out forms about your health. The tests, visits and time involved are described in the informed consent form. The visits may include an exam of your health at the beginning of the clinical trial and several visits during the trial, often referred to as patient follow-up. The clinical trial doctor or nurse may also keep in touch with you for a while after the treatment in the trial is over.
---
Why is Patient Adherence to the Clinical Trial Treatment Plan Important?
---
Patient adherence is how well a patient follows the study doctor and nurse's instructions. If you do not follow these instructions, the results of the clinical trial may not be valid. For example, if you do not take the clinical trial medication being studied as directed, the medication may appear not to work when it really does work. The result may be to deny you and other participants the treatment that is needed. Therefore, patient adherence to the clinical trial instructions and procedures is extremely important to all of us. If you are unable to perform any of the protocol procedures or take the clinical trial medication, you should inform the clinical trial doctor or nurse, especially if you experience any side effects from the treatment.
---
---